South Africa is known for its extraordinary flora and endemic fauna. The Cape Town Museum, one of the largest museums in Africa, has over one million arthropod specimens, mainly from the African continent.
caption id="attachment_4019″ align="alignleft" width="370″]
Holotype of Capederces madibai. A : habitus ; B : ventral view ; C : face details ; D : lateral view (Source : Maquart & Van Noort, 2017)[/caption]
It is while browsing its collections of long horned beetles (Beetles of the Cerambycidae family) that Pierre-Olivier Maquart came across a series of singular specimens that proved to belong to a new species. These seven insects had been captured between 1926 and 1928 in the province of Albany in the Eastern Cape. They belong to the genus Capederces which was described only in 1999 by the Austrian entomologist Karl Adlbauer. The only species known until then had been captured not far from there, near Steytlerville: Capederces hauseri (photos at the bottom of the page). These small flower longhorns, with delicate patterns, have remained very discreet since no other specimen has been encountered since their capture nearly 90 years ago.
This discovery was made in 2013, the year Nelson Mandela died. The authors therefore decided to dedicate this new species to the South African hero, locally known as Madiba : Capederces madibai (photos above). The description was published on 22 March 2017 in the journal Zootaxa (lien).
South Africa hosts 853 species of Cerambycidae, many more remain to be discovered…
The word of the species co-descriptor
What caught your attention on these specimens?
They were stored in a box dedicated to the tribe of the "Clytini" : their unusual phenotype questioned me and prevented me from deciding on their systematic positioning, thus arousing my suspicions.
How did you verify that the species was not described?
caption id="attachment_4021″ align="alignright" width="250″]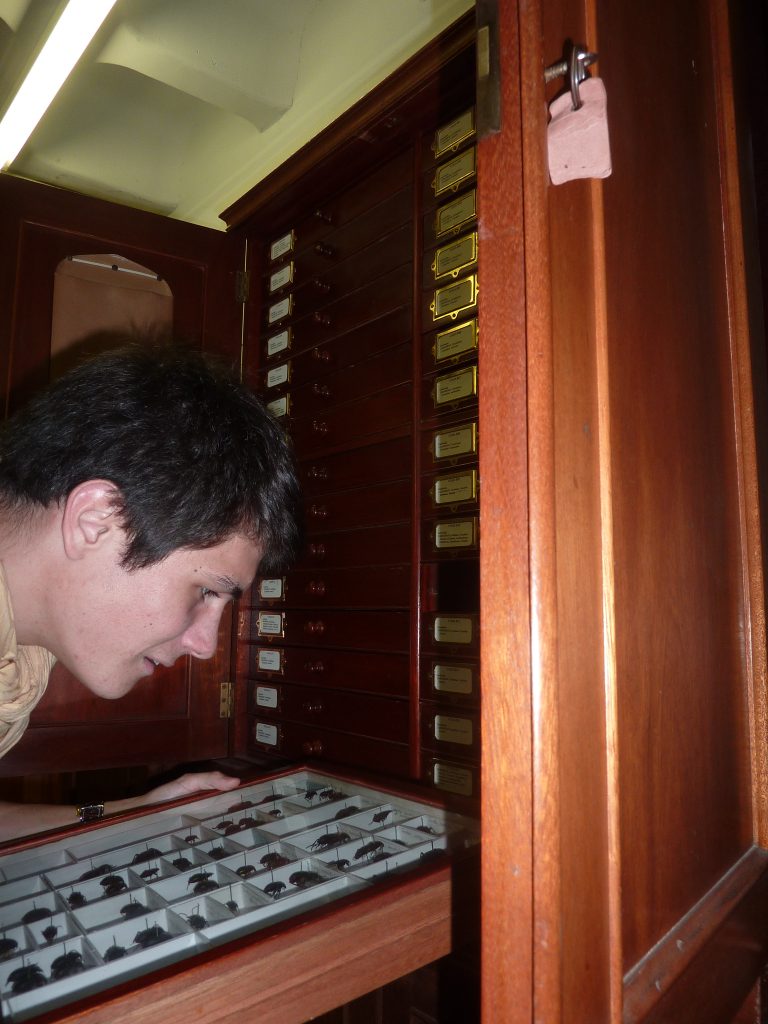 Pierre-Olivier Maquart in the collections of the Cape Town Museum – South Africa (Source : Maquart, 2017)[/caption]
I discovered that the species did not belong to the Clytini, but to the Tillomorphini tribe (a group mainly represented in South America), a photo posted on the forum of Francesco Vitali allowed to put a genus name on the insect in question Capederces.
This genus, monospecific until this discovery (which includes only one species) was represented in South Africa only by a single male of C. hauseri. The specimens of the Museum being only females, I thus thought at the beginning that it could be about this species. Then, the reception of a photo of a female specimen of C. hauseri from the American entomologist Larry Bezark – Department of Food and Agriculture, Sacramento – California – confirmed that it was a new species.
Why hasn't the insect been seen for 90 years?
I don't know… It would be necessary to study and prospect in the area ("Albany district"). On the one hand, I recently had access to the collections of the Rhodes University, which contains nearly 2 000 Cerambycidae (the majority of which was collected in the vicinity of this region), where C. madibai was not present. South African fauna is largely under-prospected and under-studied. To give an example, I have received specimens of the Disteniidae family from the Cape : Phelocalocera queketti, a relatively "primitive" long-horned beetle that has not been mentioned in the literature for nearly 60 years, although it is locally common. Who knows, maybe we'll find Capederces madibai soon?
Morphological description of Capederces madibai
This new species differs from C. hauseri by an entirely black coloration with 4 clearly delimited white/ivory spots and antennas whose length is smaller than that of the body (ratio C. hauseri and 0.7 for C. madibai) (see photos below).
– La tête : densely and uniformly punctuated flat front; base of antennas flattened and widely spaced; lower part of optical lobes longer than occipital area; vertex and scape densely and coarsely punctuated; scape with a clear distal longitudinal notch ; 3rd elongated antennomer whose length is equivalent to antennomers 4 and 5 combined ; antennas dark brown in colour and partially glabrous
– Pronotum : honeycomb punctuated area
– Scutellum : microsculpted surface ; distinct punctuation missing
– Abdomen : black integument ; first abdominal sternite densely covered with whitish bristles
– Elytra : wider than long (ratio : 2/3) ; dense, coarse punctuated surface of honeycomb, smooth at the apex and on the periphery, black in colour with two well-defined, whitish/ivory spots ; little variation between specimens
caption id="attachment_4029″ align="alignleft" width="990″]
Left : Holotype of Capederces madibai. A : habitus ; B : ventral view ; C : face details ; D : lateral view A right : Capederces hauseri. A : general habitus of the female ; B : lateral view of the female ; C : habitus of the male holotype (Source : Larry Bezark ; Maquart & Van Noort, 2017)[/caption]
Source

:

– Maquart P.O. & Van Noort S. (2017) : Description of a new species of Capederces (Coleoptera : Cerambycidae : Cerambycinae) from South Africa. Zootaxa 4244(4): 583-587 (link)

– Find also Pierre-Olivier Maquart's interview lien