The world of insects, in addition to providing subjects for study to the entomologist, constitutes a real well of resources in various fields: biological treatment of organic materials, source of proteins for animal feed, and grocery ingredients for human cooking. In recent years, this last field has been increasingly in the spotlight…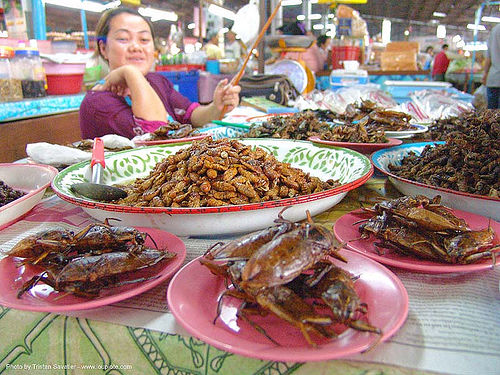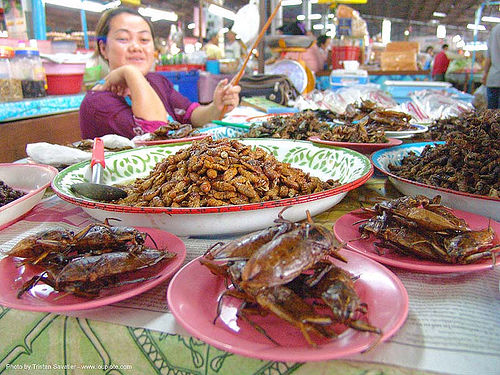 This interest has its logic: from a zootechnical and environmental point of view, the breeding of insects (entomoculture) for human food is attractive. Indeed, according to the report of the FAO (Food and Agriculture Organization) of 2013, it will require much less inputs than other animals: for produced 1kg of crickets, we would need 1.7kg of feed, against 2.5kg for poultry, 5kg for pigs and 10kg for cows (1). Moreover, according to the same report, mealworms (Tenebrio molitor), locusts and crickets emit 10 times less greenhouse gases and nitrates per kilogram of biomass produced than pigs, and 25 times less than cows. Finally, these insect species live naturally in high density populations: it would therefore be possible to raise very large quantities of them above ground over a small area – why not in urban areas – while ensuring them living conditions that respect their well-being.
From a nutritional point of view, eating insects would also be consistent: analyses covering six species : cricket (Acheta domestica), bee brood, mealworm (Tenebrio molitor), mopane caterpillar (Gonimbrasia belina), Palm worms (Rhynchophorus ferrugineus) and silkworms (Bombyx mori), have been shown to be interesting substitutes for meat. Although nutritional values vary greatly from one species to another, the Ofcom model, used in Great Britain to rate the healthiness of foods, found these species to be equivalent to beef and chicken from a health perspective. The NVS (Nutrition Value Score) system even gives these insects a better score than meat in contexts of under-nutrition (2).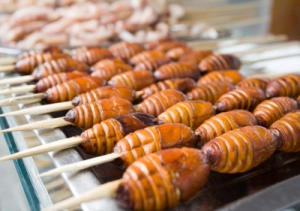 Today, the consumption of insects by humans (entomophagy), is mainly talked about in the media in two contexts: as entertainment (we think of television programs where eating insects is a test or even a punishment) or as "food of the future", as neutral as possible, for the nutritional value of certain species.
The great absentees of this media representation are the consumers and consumers of insects in cultures other than the West, who consider them as food resources, harvest them, raise them and cook them.
Actor in French insect production for animal feed, Sébastien had long wondered how insects were consumed around the world, what farming methods, what collection methods and cooking recipes already existed. If the future promises to bring insects on our plates, we might as well learn to prepare them with specialists! With his partner Annie, he is preparing a world tour of countries integrating the cultural consumption of insects to make reports and look for recipes. Back from Japan in November, they will leave for Cambodia in April.
Sources
Edible Insects – Future prospects for foods and feed security, Van Huis et al., 2013 – FAO (lien)
Are edible insects more or less "healthy" than commonly consumed meat? A comparison using two nutrient profiling models developed to combat over- and undernutrition, Payne et al, 2016 – European Journal of Clinical Nutrition (

lien

)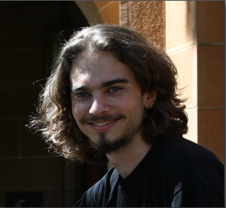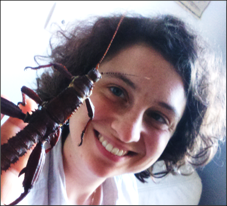 Interview of Sébastien Collin and Annie Ruelle-Sanguine
Sebastian, can you present yourself in a few lines ?
We are two working on this project : Sébastien Collin and Annie Ruelle-Sanguine.
I (Sébastien) am an agronomist engineer in animal breeding, I quickly specialized in the breeding of insects for human and animal food: during my training and my professional life, I was able to work for Jimini's, EntomoFarm, Ynsect and the University of Sydney's Department of Entomology on various projects dealing with locust and mealworm breeding. I am also passionate about audiovisual creation. I have been making videos on the internet since 2011 and radio plays since 2007.
I (Annie) am a chemist, have done a little prevention at work, have held three teaching positions in math and physics-chemistry. I am currently doing scientific mediation with the association "Les Petits Débrouillards". I also write fiction and articles since 2009.
You have a project on entomoculture and entomophagy at the global level, what does it consist of

?
Our project,"Les Crickets Migrateurs, aims to tour the countries where insects are consumed, in order to learn more about traditional recipes, how they are collected or raised, and the place they occupy in societies. Our objective is to produce culinary videos to present these recipes, as well as documentaries to contextualize them in their culture of origin. We will also write a number of articles on our blog to deepen these topics and keep our audience informed of the progress of the project.
What interests us in insect breeding and its application in human nutrition is the cultural and gastronomic impact of these ingredients. We do not have any culture of insect consumption in France for the moment: at home, all still remains to be invented. However, the media talk a lot about the nutritional and environmental qualities of insects, but there is still a mental block in many people at the idea of eating them. We think that the problem comes from the fact that the public has difficulty seeing insects as ingredients that they could use in their daily lives, in their kitchen; health and ecology are important subjects, but when it comes to food, they are perhaps weak arguments for projecting themselves into a gastronomy based on entomophagy. It is the "food of the future": an idea of an improved, environmentally friendly and healthy way of eating, but that we visualize more in a science fiction context and that we can hardly imagine in the immediate future.
One of the main reasons why insects are consumed so much in the world is simply that they are very good. Two billion people see insects first as delicious ingredients before they are an easy source of protein. And it is this bridge of view that we wish to share!
For that, we will adopt the format of the culinary video : fast, dynamic, interesting to watch, it is a mode of presentation of the dishes which emphasizes the ingredients by deconstructing the recipe step by step in a simple way. All these tasty ingredients filmed in close-ups cooking give the public an end, involve them and inspire them to try. And that's exactly what we want to do: make people hungry with insects. After "bugs? Yes it seems that it is healthy and ecological", we want them to say to themselves "the insects? Yes, it looks good and I'd like to try it. We have already made a pilot video presenting this concept: it is visible in clicking here.
Grillons grilled with lemon
A little recipe to make at home
Fry the insects in the pan with olive oil, some spices and lemon juice, which makes a perfect appetizer to enjoy in the sun.
20g crickets


Grilled crickets with lemon

1/2 lime
Olive oil fillet
Salt and pepper
Preparation :
Wash crickets thoroughly before use
Add olive oil, lemon juice, salt and pepper to crickets – mix well
Stir mixture into skillet – toast until crispy
Serve as an aperitif
Care : do not consume in case of seafood allergies
You wish to discover several countries, customs and cultures around the insect, how is organized your trip

?
We have been working on this trip since May 2017, for a departure scheduled for early April 2018 (we have already made a small expedition to Japan in November). Insects are consumed in over 110 countries: it would have been difficult for us to visit them all. So we selected eight of them, dividing our itinerary according to the activity seasons of the species we want to study:
Japan – beginning of November 2017 (2 weeks) : visit of the Kushihara Wasp Festival. In Japan, the most popular insects are crickets, wasps, hornets, silkworms and zazamuchis (small aquatic larvae – Trichoptera). An article and a video have been published on this subject! Everything is visible on our website: lescriquetsmigrateurs


Style wasp nymphs and larvae – Japan (

Source

: S. Collin)

Cambodia

– beginning of April to mid-May 2018 (6 weeks) : we hope to taste weaver ants, crickets and especially fried mygals. These last ones may not be insects, but they still count: the photos give us too much desire not to include them in our project
Thailand – mid-May to the end of June 2018 (6 weeks) : capital of insect consumption worldwide. There is a surprising diversity, such as locusts, grillons, mealworms, palm worms (Rhynchophorus ferrugineus), bamboo caterpillars (Omphisa fuscidentalis), silkworms (Bombyx mori), water bugs… We'll have something to do!
Australia – July 2018 (one month) : July is an excellent time to find witchetty grubs, caterpillars of the species Endoxyla leucomochla (Cossidae family) occasionally consumed by Aborigines and living in the roots of the witchetty tree. We also read that termites were also consumed, so we hope to be able to taste them as well
Mexico – August 2018 (one month) : in the southern state of Oaxaca, locusts called locally chapulins and larvae of ants of the genus Liometopum called escamoles are harvested. You can prepare them in tacos or with guatamole

Chenille mopane – Gonimbrasia belina – Botswana (

Source

: Google)

France – September to mid-October 2018 (6 weeks) while waiting for Kenya's rainy season, we will make a stopover in France. This will be an opportunity to take stock of what is being done in terms of insect breeding here in Europe: where are we in the integration of the insect in the agro-food circuits? What uses are made of it, and where can we taste it?

Kenya – mid-October to mid-November 2018 (4 weeks) : we will arrive at the beginning of the nsenene harvesting season, grasshoppers of the genus Ruspolia very popular in East Africa. We also hope to taste palm worms and termites, still very popular, as well as kungu cake, a cake from Lake Victoria made from compressed gnats
Botswana – mid-November to mid-December (4 weeks) : Botswana will be an excellent place to discover the caterpillar Gonimbrasia belina, locally called mopane, a popular insect in southern Africa. We will arrive early in the season, which will be an opportunity to learn more about his harvest.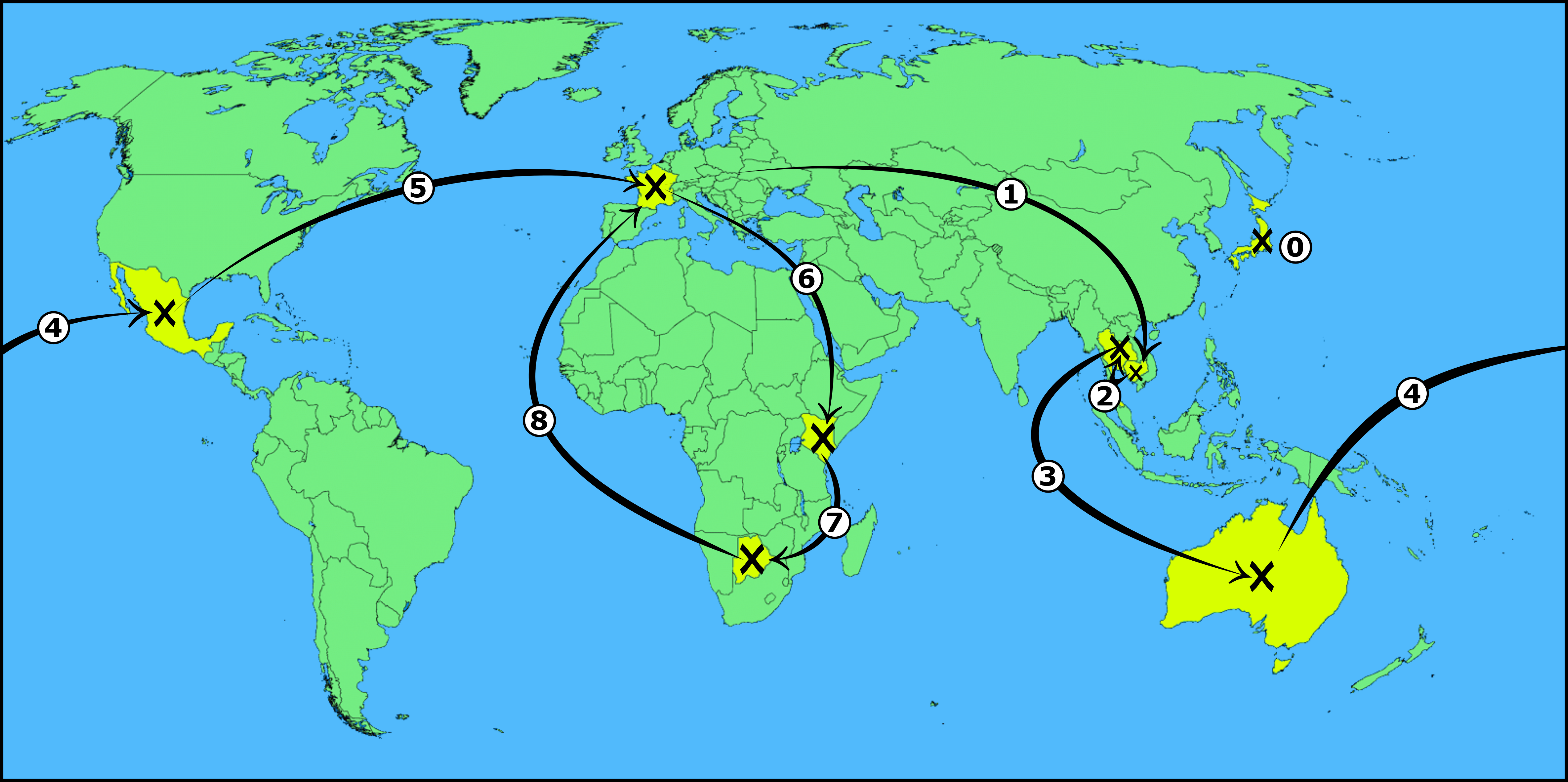 What are the material and financial means necessary to carry out your project

?
We will need a total budget of 28 000 €. This includes air tickets, accommodation, food, local travel… We also have some equipment: a computer for video editing, a USB microphone and a camcorder that holds up pretty well.
You want to call upon the Passion-Entomology community to finalize your trip, what are you missing

?
You wish to help and contribute to the financing and the loan of materials: do not hesitate !!
Sébastien and Annie are looking to finalize their entomoculture world tour project
one or more sponsors
2 000 to 3 000 €
a camera with micro
contacts in the countries crossed
Website / Facebook / Chaine Youtube / Twitter / Instagram / Linkedin
This project will be mostly self-financed, but we are looking for sponsors to complete our budget. We are supported by Jimini's and EntomoFarm, who are financing us with 5 000 €. If we add our own funds, we have enough to go to Kenya: we need between 2 000 and 3 000 € to make the complete trip. So, if among Passion-Entomology readers is a company manager who would like to sponsor us, we are open to discussion! Our complete file can be downloaded at this address.
Alternatively, we would also be material takers, if someone could lend us some! We think for example of a better camera, with a powerful microphone. And if you have contacts in the countries we are going to visit – from collectors/breeders/researchers/insect cooks – a connection would help us enormously.
And, of course, one of the best supports you can give to the project is to follow it, tell us what you think and share it with others. So don't hesitate to check out our channel Youtube, our site, and your favorite social network (Facebook, Twitter, Instagram and even LinkedIn).
Is there something that is close to your heart and that you absolutely want to achieve

?
Besides gastronomic enrichment, there is a potential application of insect consumption that would fascinate me most: that of astronaut nutrition. Developing lunar or Martian bases could become a reality more quickly than we think: it will then be necessary to find relevant agricultural models to feed the inhabitants of these bases. The aim is to develop means of production that do not take up too much space, that do not consume too many inputs, that are sustainable, that operate in a closed circuit and that make it possible to feed people in a healthy way: insects could satisfy these requirements. By the way, this kind of model would be very useful to us on Earth! Space research often makes it possible to develop technologies that find application outside its own domain; and we would find this trend here too: the engine of innovation that this research represents would enable us to respond to issues and problems that we also encounter on Earth – and if insects can be part of the solution, so much the better !
Works and products recommended on this theme: