Pierre Anquet is 34 years old and works as a metallurgist. Fascinated by photography for almost 10 years, he specialized in macrophotography three years ago.
Find it on Facebook: PierreAnquetPhotography
Why do you like photography, and especially the insect macr

o?
I have long done photography without finding a domain that really passion me. Although having a macro lens, I didn't like the results. One day, watching a video of an American photographer, Thomas Shahan, convinced me that this is what I wanted to do: to be able to create sublime images with little material. I'm not mistaken! Later, the work of Levon Biss (photographer exhibited at the Musée des Confluences – Lyon – as part of the exhibition "Beetles, Extraordinary insects"-18 December 2018-28 June 2020) during his exhibition "Microsculpture" allowed me to initiate Gradually to work in the studio, a relatively little known domain where information on the internet remains scarce.
I started by photographing small jumping spiders (Salticidae) in my garden (photo opposite), then, very quickly, having discovered with surprise an unsuspected complexity of form and structure in such a small creature, I photographed Flies, wasps and other insects, amazed each time to distinguish hairs and other facets. The photo taught me to love these critters. I tried to photograph inanimate objects like pen balls or grains of salt, but every time I go back to the insects where I feel like discovering a new planet. I'm a big fan of the saga "Alien", some insects really have nothing to envy to the Xenomorphes!
My practice is divided into two very different methods: in the Wilderness and in the studio.
Material
For outdoor work, I use two lenses, a Sigma 180mm Macro and a Canon Mp-e 65 with which I use most of the time a flash. I do a lot of a "focus stacking" technique of "stacking" several images at different points of view to magnify the sharpening area. For this, I realize a large number of photos in burst by slightly shifting the focus between each shot and then assembling them using the software Zerene Stacker.
This technique allows me to get an image with a very large area of sharpness and details impossible to grasp otherwise. To make these shots without micrometric rail, it requires a certain technique: move the case so as to "sweep" the entire subject while keeping the same framing. With training, I am able to manage this technique even at very high ratio. The challenge lies in speed because the slightest movement of the insect during the process forces you to start all over again. So there is a fairly significant share of chance in success. Another point at the hardware level is to be able to take a lot of flash photos in a minimum of time. For this, I invested in a "Sony A7III" capable of shooting 10 frames per second and in an external battery allowing the flash to follow the cadence. The whole is on the other hand heavy and cumbersome but formidable efficiency!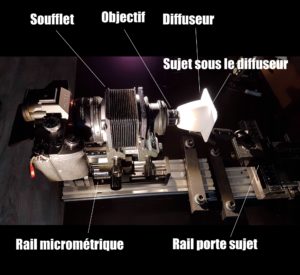 You also need to know your subjects. For example, I learned that the Salticidae (jumping spiders) always ask for a time to adapt before being comfortable in front of the goal, it takes a good quarter of an hour before being "accepted" by the latter.
For studio work, it's a whole different story because the insects are dead. These are corpses that I find because I never kill an insect to photograph it. I become particularly demanding on the quality of the material, I look for the best quality and magnification (ratio between the size of the image recorded on the camera sensor and the actual dimension of the subject photographed) the most Important. 
For example, if you photograph a 2 cm object and the image of the same object measures 1 cm on the sensor, then we have a magnification ratio of 1/2 (often rated 1:2), or a magnification factor of 0.5 x. Conversely, if the image of the same object measures 2 cm on the sensor, the magnification ratio will be 1/1 (1:1) and the factor of 1x. Finally, if the image of the same object measures 1 cm the magnification ratio will then be 2:1.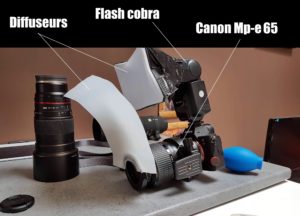 To meet my requirements, I acquired the following hardware: A Canon Mp-e 65, a Lomo 3, 7x lens and an Olympus UplanFL 10x. The objectives of microscope having a zone of sharpness very fine, I use a computer-controlled micrometric Rail (the Stackrail SR90) allowing a precision of the order of the Micron (10-6m). The key point is the lighting. For this, I use three Yongnuo flashes and Jansjö series Office lamps from IKEA (reputed in the world of ultra macro and giving excellent results). To diffuse the light, I use several houses diffusers: What works best is a jar of yogurt around the subject, it's simple and ultra effective! Without the diffusers, the light would be too direct causing a loss of sharpness, an excess of contrast and above all an unaesthetic image: These are certainly the most important elements for the success of a good image.
Methodology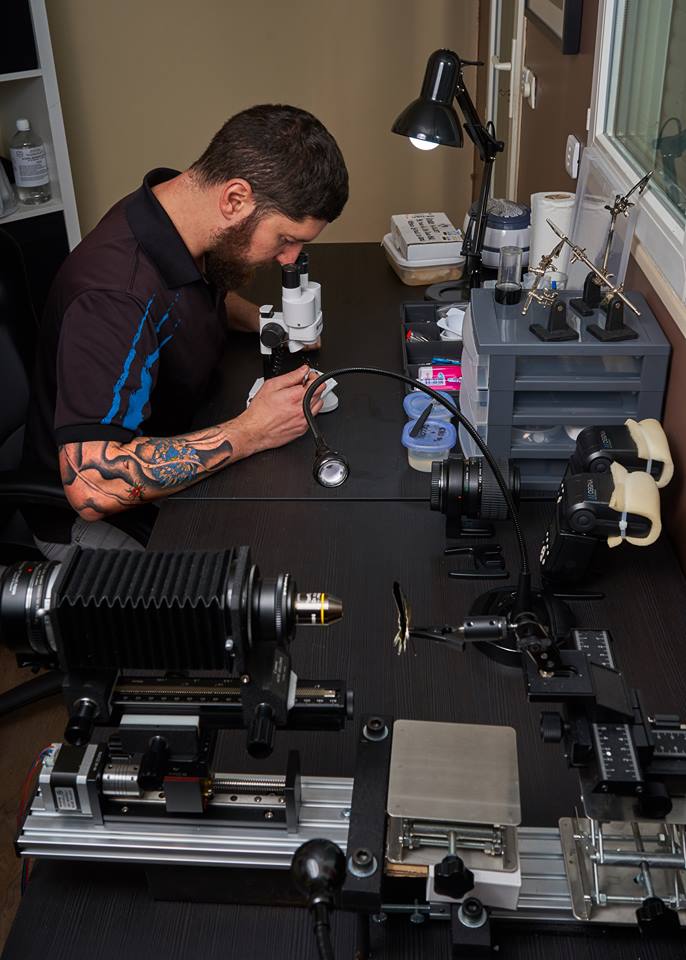 The work begins with the cleaning of the insect using a small brush to remove the large dusts, then a bath in a little soapy water, or better, a blow of ultrasonic cleaner to finish the cleaning. The insect then makes a stay of a few hours in a box filled with salt water to rehydrate it so that it can restore an aesthetic position. Pinning a large insect is quite simple, pinning an ant a few millimeters is another pair of sleeves… (Read this article). I take particular care of the symmetry of my subjects, which can spend a moment in repositioning an antenna or a paw using magnifying glasses or a binocular magnifying glass.
The choice of the target is based on the size of the insect: a large beetle will pass to Mp-E with a 1:1 ratio, a smaller fly, would require the Lomo lens, while a small ant or butterfly wing would require the Olympus which allows A 12:1 report. Then I position my insect and adjust the lighting. For example, it takes a soft light to avoid very unsightly light points, as well as a few reflections to give a little relief. Regarding the background, which represents an integral part of the photo, one can opt either for a classic black background (but very difficult to obtain, stacking software does not like the black backgrounds), or for a background of color Associated with that of the subject, for example a hornet on a yellow background, a mantis on a green background, etc.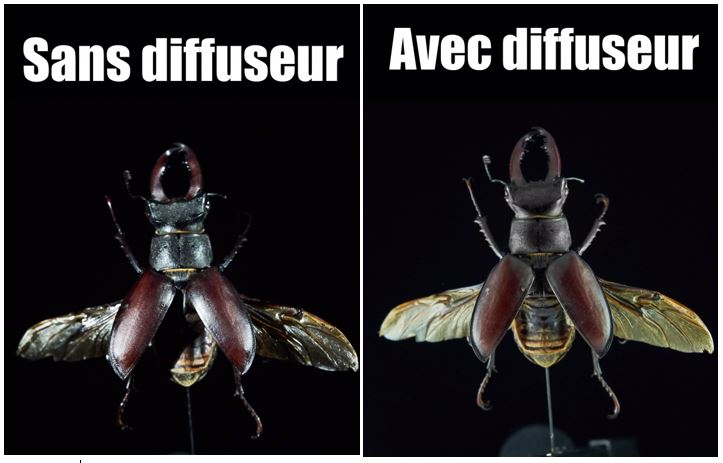 The shooting is done with the help of the rail: it is enough to integrate the data of start and end, and the step of advancement. I start the procedure and I leave the room to avoid any vibration (very high ratio, the beats of my heart were visible on the screen of my box!). The shooting requires 20 minutes and 150 shots that will be processed by the software.
The processing starts with raw files (raw files of the case without preprocessing, they are larger than the classical JPEGs but offer a much larger retouching span), then by the white balance (or temperature, serves to correct The colors depending on the light source, the incandescent bulbs are rather yellow while the LEDs are rather blue, a good white balance is used to correct these imbalances in order to obtain perfect colors) and by the exposure, the High and low light (very clear areas and very dark areas), to record everything in a TIFF 16bits format (RAW format equivalent but that can be read on all software, unlike raw format that requires specific software to be treated).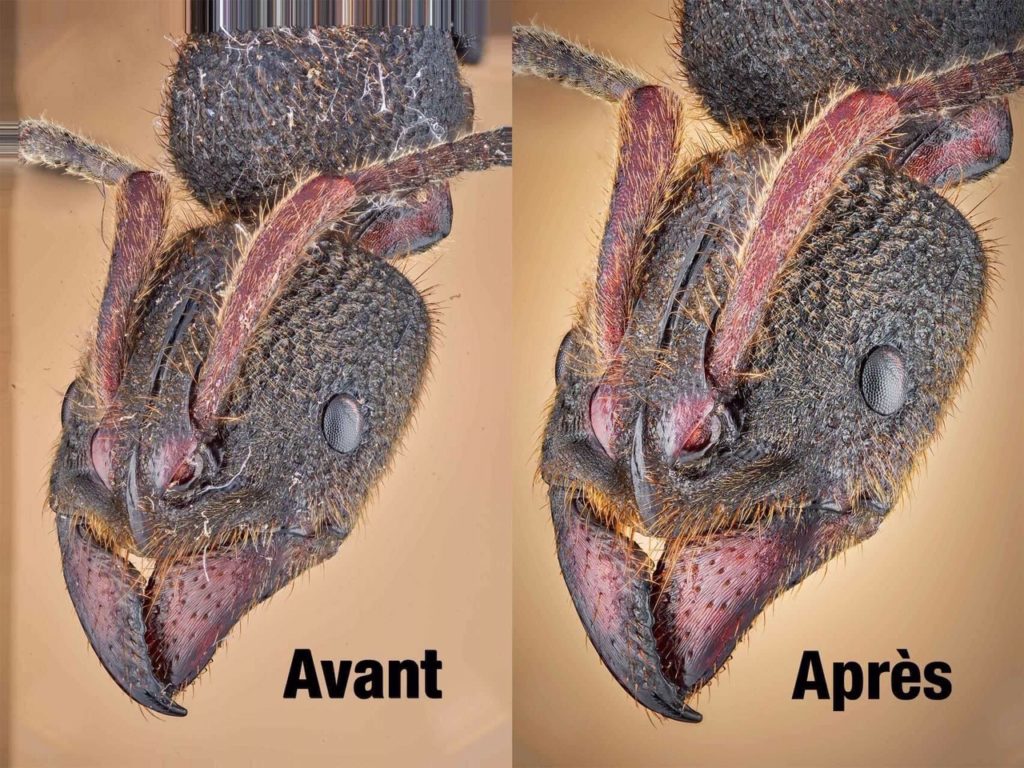 The files are then stacked using the Zerene stacker software, I select the best version between the various stacks (image stacking) in Pmax and Dmap (Pmax and Dmap are two algorithms stacking in Zerene stacker, depending on the subjects, it will be preferred either, or both). Thanks to the Zerene retouching tool, I later retrieve the best areas of both versions to get a clean image. Some simple subjects require only a few minutes of work, but others require more than an hour just to correct problems with antennas or split legs, halos around hairs or other whatnot!
My final image backed up in 16-bit TIFF format, I open it in Photoshop to perform a thorough cleanup using the duplication tool. Then I make a Dodge/burn shot (lightening or localized darkening) to adjust the local contrast, I rebalance the colors if necessary, if the symmetry is not perfect, then I use the Puppet tool (tool for distorting An image, very convenient to precisely move a paw or antenna in order to achieve perfect symmetry) and finally a noise filter to eliminate digital noise if necessary.
A studio image requires hours of work, my record being more than 12 hours of work for a single snapshot. We can push the vice by carrying out in addition to all this a panorama to get a picture of very large size with more details.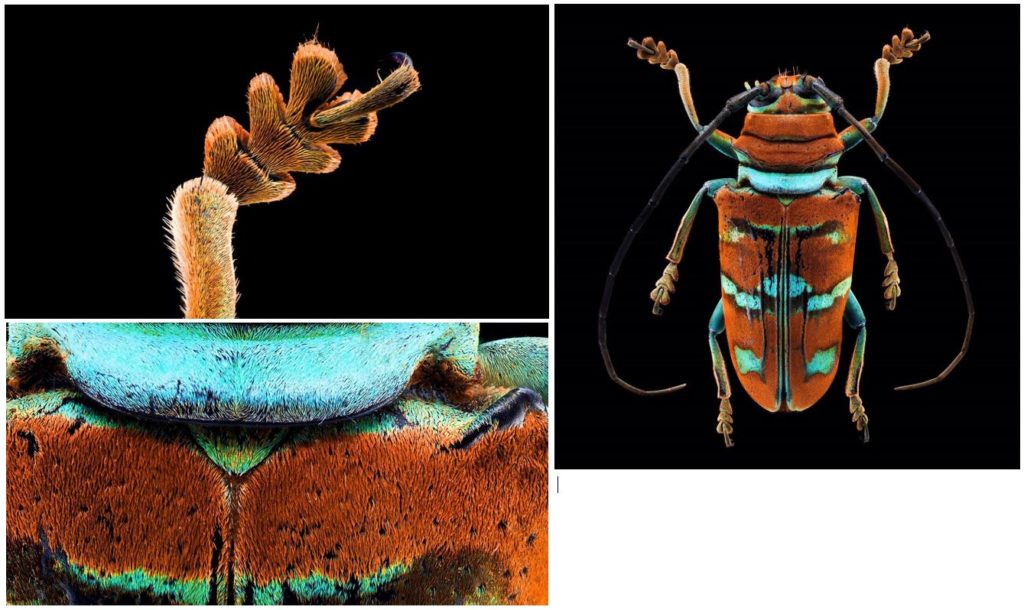 For what purpose all this?
I had never honestly asked myself this question… By what I like and I find it pretty more, the extreme difficulty of this technique is an interesting challenge.
How do you value your cliché

s?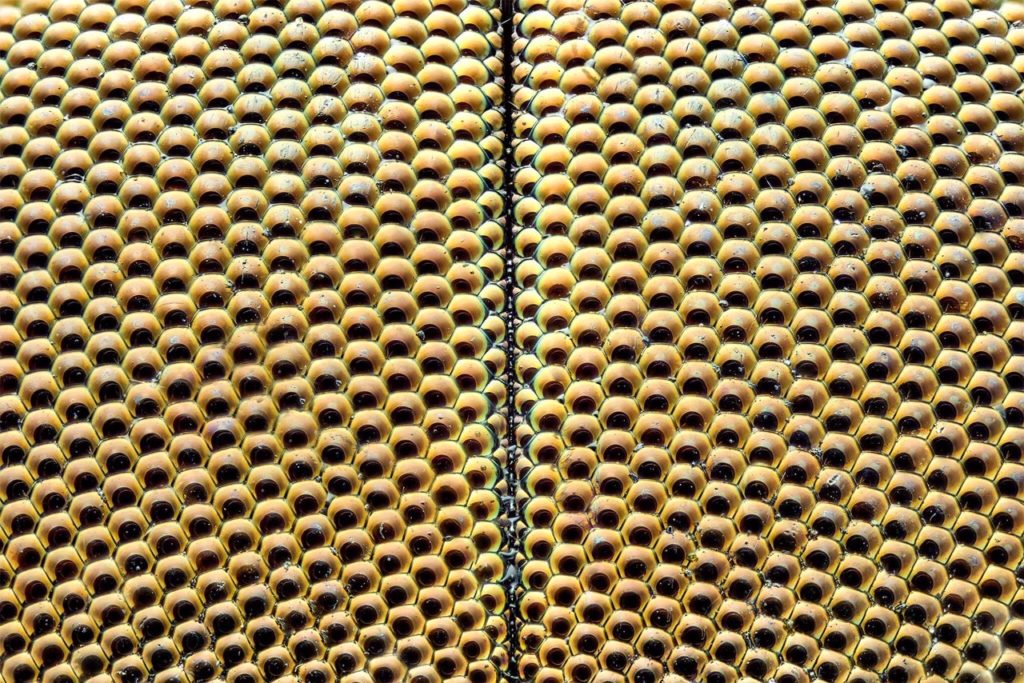 I take special care in shooting and development. I prefer quality to quantity and for cause: I only realize three or four photos per month the best months. As I said above, the aesthetic is my priority, a beautiful symmetry, a precise light, a perfect sharpness and harmonious colors, with such a recipe even a common fly becomes superb.
The final goal is to print and frame my photos.
What are your next challenge

s?
I'm going to keep tweaking my technique. I wish to go ever further in the magnification reports, 20:1, 50:1…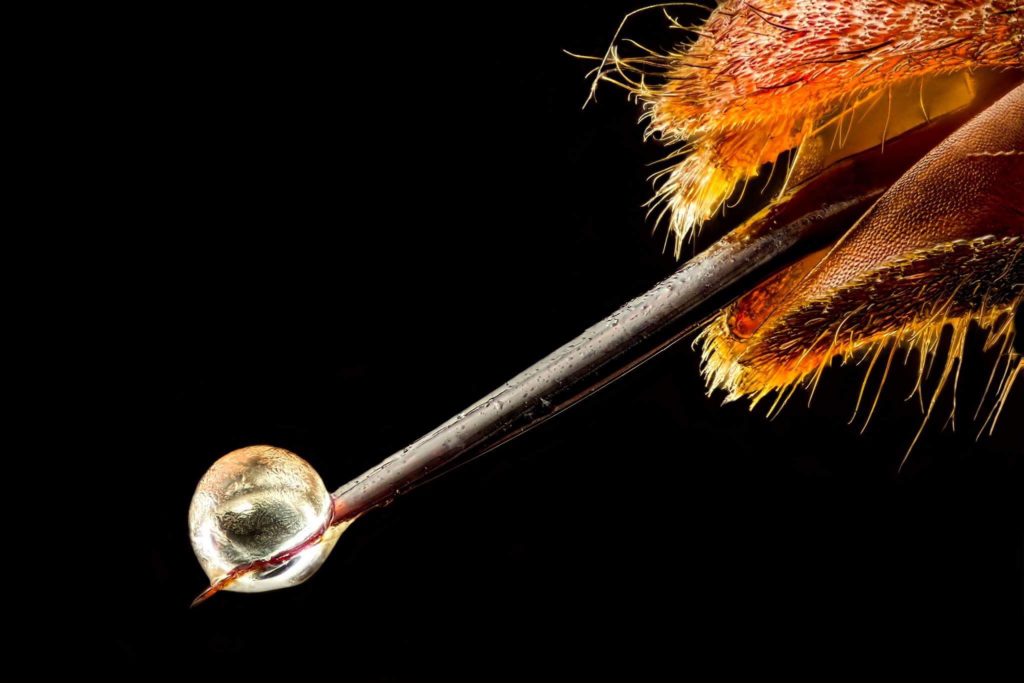 I recently picked up the 19th place in the prestigious Nikon Small World microphotography contest with a shot of Asian Hornet dart with a drop of Venom (pictured opposite), it's an unexpected reward. I have always admired the photos of this contest that represent for me the high end of the macrophotography. Getting a prize is a huge honor. I made my first exhibition in early November at the centre Leclerc de Saint Orens near Toulouse, a great sensation to be able to see my pictures exhibited, hoping that this is just the beginning. I occasionally sold a few shots, it's really nice to see that his work likes to the point that a person wants to acquire it to expose it at home.
In the years to come, I would like to work with a museum or collectors, and above all, I have the desire to create new exhibitions… Business to follow.
Photo Album Pierre Anquet