I had the pleasure to invest myself this summer in a multidisciplinary scientific exploration mission in the Makay massif in Madagascar (21 July – 2 September 2017) led by the association Naturevolution and Evrard Wendenbaum, its founding president.
My first stay in this region, in April 2016, allowed me to approach the unique potential and the potential both faunistic and floristic of the Makay massif. With this in mind, I wanted to get involved and contribute both to its scientific study and its preservation by participating in this mission.
My wish was to meet several objectives. The aim was to collect insects by using multiple sampling strategies: Malaise and interception traps, mowing line, threshing (Japanese umbrella), light and attractive traps (read this article) and to carry out inventories that have never been undertaken in the Makay massif (vertical inventories on cliff walls, inventories in the canopy, etc.) in order to provide new data for science and to argue in favour of site preservation.
A large amount of material could be collected, mainly from loans from entomologists across France, both amateur and professional (liste and thanks at the bottom of the page).
Déroulement
It was initially planned to stay in the south of Makay (see this article) (Makaikely camp) but changes in the organization came from the beginning of the mission to thwart the scientific and logistical program. Instead of three camps (north, centre, south), only two camps in the north were established for the first three weeks. After a week of transit, I settled for eight days in the Mahasoa camp, north of the massif, with other members of the team, notably the botanist Catherine Reeb (Laboratory ISYEB-MNHN) and the carcinologist Jean-François Cart (Expert IUCN).
The camp was located in the forests of Mahasoa and Beroha, on a sandy shore close to cliffs and forests both preserved and anthropized (photos above).
A succession of organisational and logistical problems have disrupted or even prevented a large number of research activities: change of programme and ever-challenging decision-making, too many ecovolunteers and not allowing transport within a reasonable time and conditions, time spent on camps as a result, late or even absent reception, lack of scientific and working equipment..: no scientific dome, no chairs, no electricity in sufficient quantity, no table where to install the work laboratories (binocular magnifiers, computers, notebooks, samples, photographic shooting.), etc.
It was therefore more than regrettable that such a lack of organization could have come to disrupt and prevent work in such a biologically rich region and whose interest was precisely its isolation.
Research activities
Despite all these difficulties, it was possible to install and use the Malaise and luminous traps (photos below). In order to study the variations in diversity and the distribution of entomofauna between different types of habitats, the three Malaise traps were installed in three different habitats: a vegetated shoreline, a low-vegetalism shoreline and an understory of preserved forests. The light trap was placed near the camp, once on the sand and once again at the camp. These collections were the subject of drawings by Aurélie Auka (the mission's designer) and my interview by Léo Grasset (Dirtybiology – Youtubeur) during the canopy light trap (Photos below, the drawing by Aurélie Auka will be published soon and the interview of Léo Grasset (DirtyBiology) is awaiting publication).
The vertical inventories, as for them, could not be carried out because of the absence of the material at least during my presence on the camp. This is disappointing because the characterization of entomofauna distribution as a function of height, luminosity, humidity and vegetation offered good prospects for scientific studies.
The dry season and the cold night explain that the collections were little diversified and not very abundant. The best samples were taken with a mowing net and a malaise trap, although the exposure time was too short for the latter (8 days instead of 3 weeks). All the main orders (Diptera, Coleoptera, Lepidoptera, Odonata, Heteroptera…) were observed, but almost all catches concerned small, poorly represented species.
First results
A first inventory was carried out on site : identification, classification and packaging by order and family when this was made possible without adapted observation equipment (magnifying glass, light, table…). Individuals were packaged in alcohol with a reference code (read this article).
Total number of individuals identified and classified: 261

Percentage Coleoptera : 23%

Percentage Heteroptera : 20%

Percentage Diptera : 18%
Percentage Hymenoptera : 14%

Percentage Lepidoptera : 6.5%

Percentage Odonata : 3%
Percentage Orthoptera : 1.5%
Other percentages : 11%
Percentage of catches by trap type
Mowing and threshing net: 44.4% Light traps: 33.7%
Traps Malaise : 15% (due to lack of time, not all trap samples could be identified and individually packaged – the proportion of traps collected by this method is actually much higher)
A more complete and exhaustive inventory will be published in the coming months. The samples, which have remained in Madagascar pending export permits, will be sent to entomologists for determination as soon as they are received in France.
Interesting naturalistic observations were made by groups from other disciplines such as ornithology, archaeology, herpetology, mammalogy (read box below).
General scientific report of the expedition
First images of fossa (Cryptoprocta ferox) in the Makay massif – Largest predator of Madagascar
First discoveries of freshwater crustaceans (crabs and shrimps) in the Makay massif
Observations of about ten new amphibian and reptile species for the massif, including the snake Langaha madagascariensis
Census of 10 of the 14 species of Madagascar's day raptors
Sampling of several fish specimens of the genus Pachypanchax – Probably a new species for science (one population counted)
Discovery of five new archaeological sites presenting parietal paintings
General statement
The three weeks of the mission were far too short. Over 21 days, the period on the camp represented only days today. Locating the site and installing the equipment, like setting the traps, takes up the first day, then putting all the stuff away the last day. The actual time reserved for collections and studies was in the end only six days: which is insufficient to satisfy the ambitions and scientific expectations.
Future projects
New projects in Makay are already being studied and prepared with Catherine Reeb and Gaetan Deltour (Naturevolution's scientific manager). With my colleagues, I am at the initiative of a project of setting up and establishing a permanent multidisciplinary research station in the heart of the Makay massif, a project for which I give all my support, my time and my skills. Planned for 2019, the camp, designed in the most ecological way possible, will offer the necessary and indispensable conditions of comfort for work in tropical and isolated environments to international scientific teams (professionals and students), but also to a reduced number of privileged eco-volunteers, who will succeed one another by successive rotations. It will thus be possible to carry out research work with more complete and precise protocols (in biology, geology, archaeology, etc.) that can be spread over several months (Gaetan Deltour tells us more in his interview).
Interview by Gaëtan Deltour
Naturevolution's scientific manager
Gaëtan, can you introduce yourself in a few lines?
Originaire de Cahors, in the southwest of France, I spent my childhood there between woods and rivers. After studying in Toulouse with a BOPE degree in "Biology of Organisms of Populations and Ecosystems", I joined the Paris Natural History Museum (MNHN) for a Master's degree in "Systematic, Evolution and Paleontology" MS. During this journey, I had the opportunity to carry out internships in different structures: zoo, veterinary practice, associations which allowed me to develop a real interest for the conservation in general and the preservation of the Lemurs of Madagascar. Today, I work for the association Naturevolution as scientific manager of the various missions of the association.
How did you meet the members of Naturevolution and what is your mission ?
I met Naturevolution and its members when I was 19. At this time, I am in my second year of Bachelor and I have to find an internship for my third year. I then decided to carry out an ecovolunteer mission in Madagascar and discovered the association Naturevolution which works around the Massif du Makay. So I took part in one of their missions where I had the opportunity to celebrate my 20th birthday in one of the most beautiful places in the world! After this stay, I stayed in contact with the association and it is two years later that on the occasion of one of their general assembly, I became secretary of the association. Since then, I have been involved on a daily basis in the association's various projects in communication and fundraising, and more particularly in the scientific field.
You were the instigator and scientific director of this year's scientific mission in the Makay massif. Can you tell us how this project was born?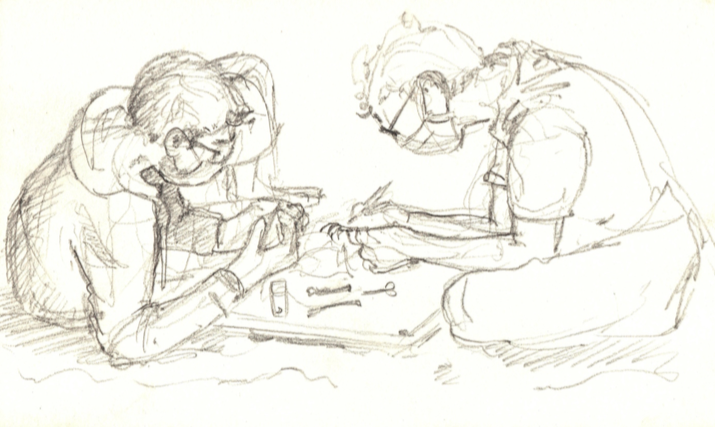 This project started with my desire to put into practice what I had been taught during my school career and my training at the MNHN. For that, I formed a small team within my Master and we proposed to test an interactive tool of identification of the Lemurs during a mission in Makay : Clémurs.
Small by little, my team was joined by other students and researchers who wanted to bring their skills to the mission. And it has become a multidisciplinary and intergenerational scientific mission. My role was then to work in collaboration with all the scientists and to set up field protocols.
What were the difficulties encountered in the organization : technical, material and human?
The difficulties are related to the inaccessibility of the site. It took many hours of bus, 4×4 and walking to reach the massif, which greatly affected everyone's morale! Makay is a massif to be earned! One of the main problems has been managing the flow of scientific material due to a lack of carriers. Indeed, priority was given to the participants' food and personal belongings. It took a long time before all the equipment was available to the entire team.
Your return to the "modern" world goes back a few weeks, how do you assess these six weeks of expedition?
My return to the "modern" world makes me realize again the rhythm in which we live. The gap with Madagascar is still intense. After a few vitamin and protein deficiencies, Western-style meals do a lot of good!
To assess this expedition, nearly 40 animal and plant species have just been counted for the first time in the Makay (read box above). However, the discoveries could have been much more numerous without the logistical couacs. From my point of view, it was a great adventure.
Next projects in Makay are already under discussion. Is it possible to find out more?
In fact, we wish to pursue our actions in the Makay massif around different themes.
First of all, at the scientific level, a permanent station project is under consideration. One of the problems of the massif is its inaccessibility. It is necessary to propose a structure for researchers who would like to continue work in this site. Previous scientific expeditions have raised the potential of the site but must now give way to long-term research.
Projects are underway to improve the living conditions of local populations through a beekeeping programme and the development of education.
The development of eco-tourism in the region must also benefit local populations by providing them with new sources of income.
Finally, as often in Passion-entomologie, would you have an anecdote to share with readers?
I'd like to share a lot more !!! During the mission, I had the chance to celebrate my 23rd birthday at the Makay summit. We spent the night in bivouac on one of the ridges of the massif and we saw the sun setting and rising while passing by a magnificent starry night! It was just amazing! I share a second anecdote because this one touched me a lot. On the way back, installed in a 4×4, we passed near a gigantic bush fire. We were so shocked, that the team stayed nearly 30 minutes watching trees and bushes burn a few meters from us.
Thanks
I would like to thank all the people who, by contributing materially and financially, allowed me to participate in this mission (list of people below).

I also thank all my friends of misfortunes crossed during my stay and with whom I spent very good moments !
List of persons who have contributed materially and financially :
My wife who let me leave !
Family, relatives and colleagues
Vincent Albouy (OPIE) : packaging tubes
Jean-Michel Bérenger (medical entomologist – Timone) : collection tubes and entomological materials
Jérôme Bréger (Entomo-Silex) : mowing nets, Japanese umbrella and UV flashlight
Franck Canorel (author of the magazine : "Les Entomonautes") : collection tubes and entomological materials
Adrien Debrix (Cycle Farms) : binocular magnifier and entomological materials
Serge Kreiter (CBGP) : collection tubes and entomological materials (and mites)
Philippe Macquet (Bio-Scene) : GPS
Bruno Meriguet (OPIE) : interception traps
Jean-Jacques Peres (neurophysiologist – entomologist) : digital microscope, wired camera, entomological tubes and materials
Claire Villemant (MNHN) : traps Malaise
Recommendation of book and DVD on this theme
– Makay : Discover the latest Eden
(Evrard Wendenbaum – Editions de La Martinière – 173 pages – 17 November 2011)
– Makay, les aventuriers du monde perdu[Blu-ray 3D]
(Evrard Wendenbaum & Pierre Stine – 98mn – 14 December 2011)