An introduction to the world of rhopalocera
English anthropologist of international renown, Adrian Hoskins has long studied British lepidopterological fauna and has been passionately involved in the association Butterfly Conservation. However, he left this structure to devote himself only to field observation of tropical lepidoptera (1). And he makes us benefit from these observations by delivering a small splendidly illustrated work, entirely dedicated to butterflies (rhopalocera) – a universe that Hoskins explores with great scientific rigor but also a real talent of photographer -.
caption id="attachment_3523″ align="alignleft" width="290″]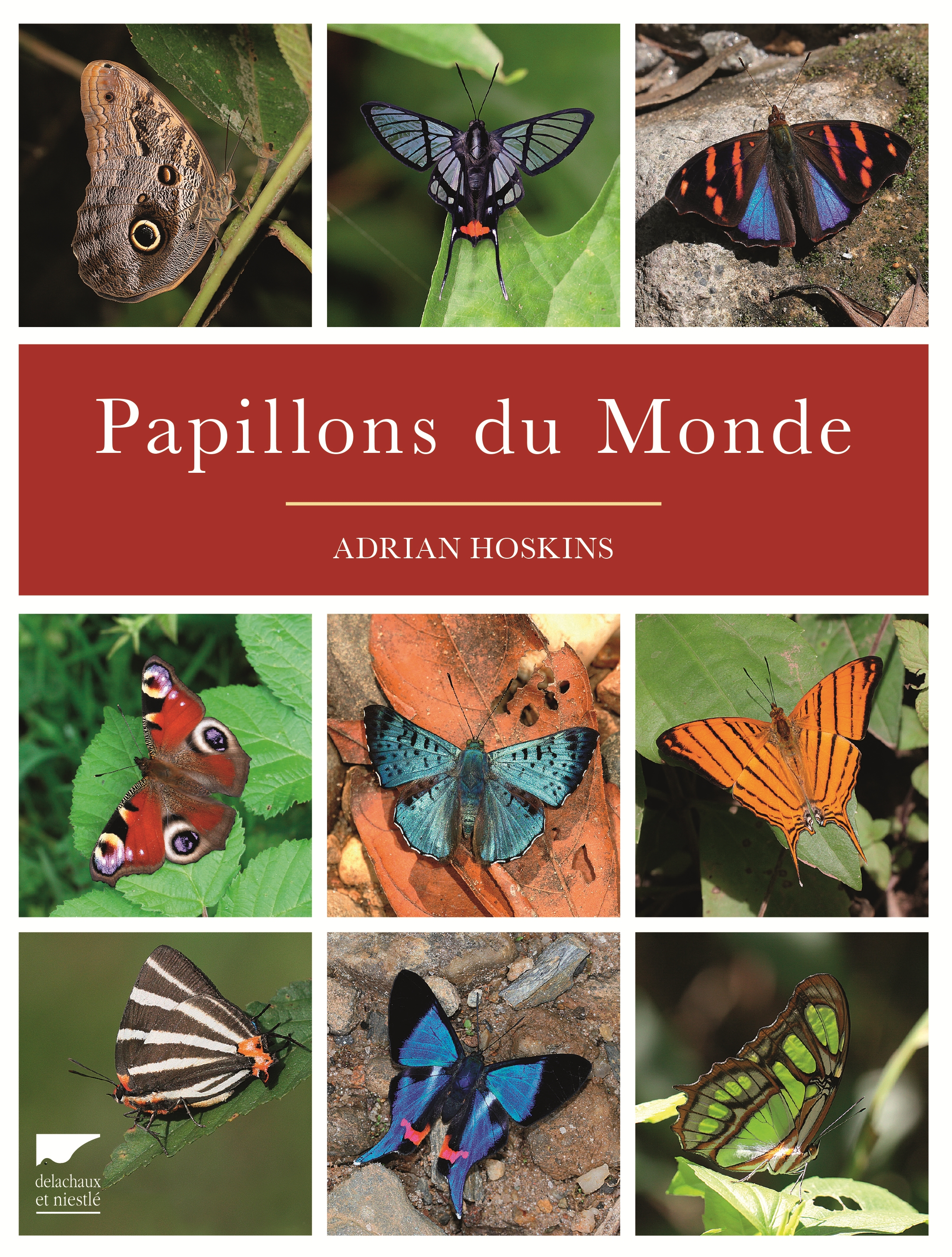 Cover page : World butterflies
– Adrian Hoskins (Delachaux and Niestlé – June 2016)[/caption]
The first part of this book, World butterflies, offers a complete overview of these insects and their way of life. It presents the origin, evolution, anatomy, and details the life cycle, from the egg to the caterpillar, then to the chrysalis and finally to the imago, underlining the too often unsuspected requirements of certain species, inferred for example to particular plants or, also, depending on their relationship to ants (myrmecophilia) (lire this article).
The mores of butterflies are not forgotten: their dietary requirements, their sexual behaviour, the migration of certain species, the pressure of predation and the parasitism of which they are victims are evoked with precision. The survival strategies implemented by these insects are the subject of a chapter nourished – starting with the subtlety of their camouflages or the art of certain species to mimic others, which signal to their possible predators their toxicity by their very bright coloration (called aposematic) (lire cet article). We will thus discover how some butterflies "disguise" to blend into their plant environment by their coloring or by… their transparency and how others deceive the attack of the birds by making them take the bottom of their folded wings for… their head !
This generalist part is followed by an exhaustive presentation of all families (Hesperidae, Nymphalidae, Lycaenidae, Riodinidae, Papilionidae, Pieridae, Hedylidae), subfamilies, and even, if applicable, tribes of rhopalocera. Each of these chapters is illustrated with specimens seized on the spot in their natural habitat – mostly by the author during these numerous trips in the tropics, and particularly in Latin America -. Some clichés, sometimes, even present new species, still awaiting description. A concise text makes it possible to appropriate the essential taxonomic and biological characteristics of the various groups of butterflies, even the specificities of certain genera. It is only regrettable, it is a detail, the absence of a bibliographic part, suggesting ways to better understand such or such of these groups of butterflies.
So designed, Papillons du monde
presents itself as one of the rare introductions to the rhopaloceran fauna worldwide in French. Moreover, it is one of the author's ambitions to advocate for their protection. Adrian Hoskins makes it explicit by way of conclusion: everyone can and should act, whether on the scale of a simple private garden or, why not, in a more militant way, by engaging alongside associations working for the preservation of threatened habitats.
Denis Richard
(1) : interested readers can discover his site learnaboutbutterflies.com
To get the book: follow this link World butterflies
---
Interview of the author : Adrian Hoskins
World-renowned entomologist
Rhopaloceran lepidopteran specialist
caption id="attachment_3503″ align="alignleft" width="239″]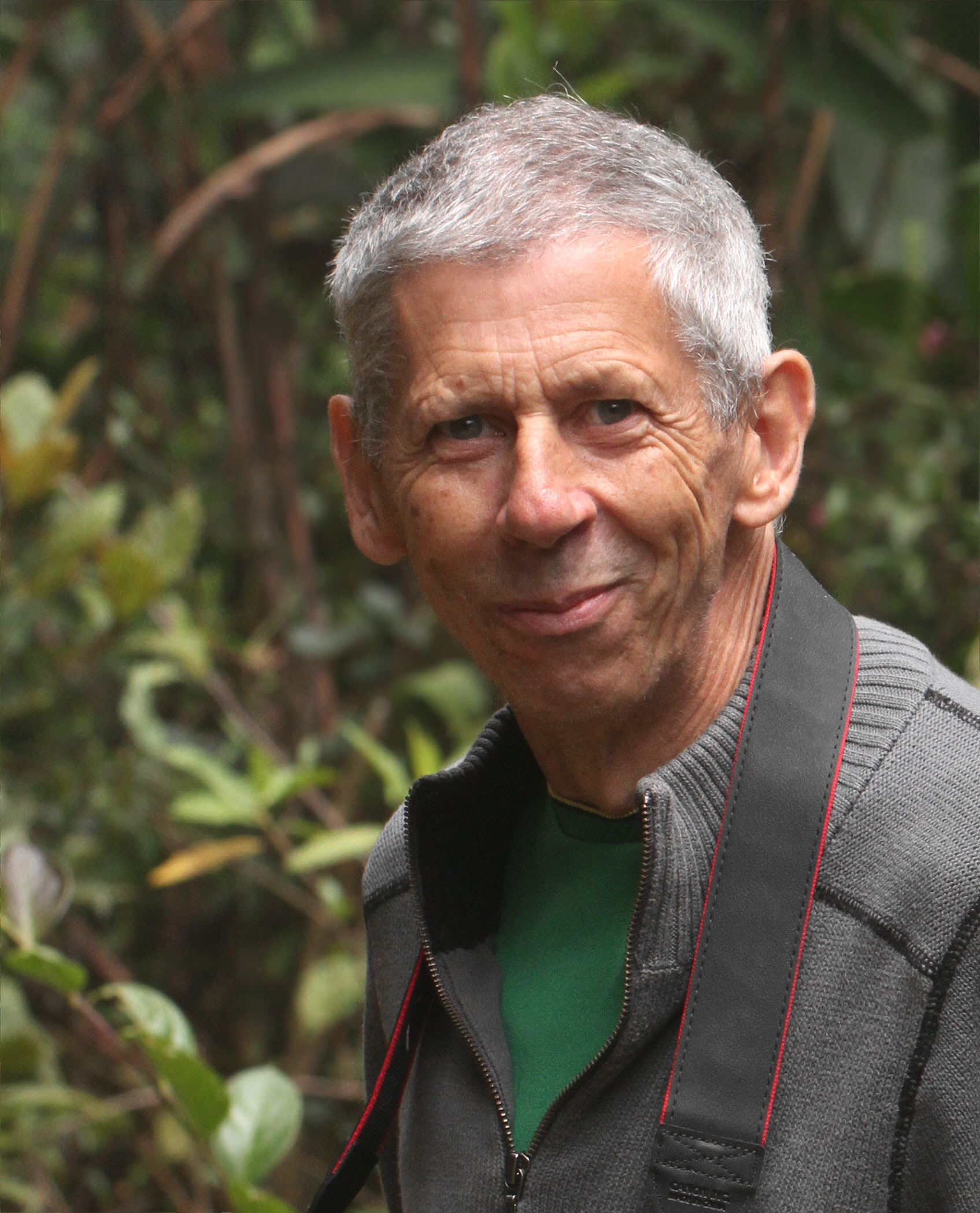 Adrian Hoskins, famous English lepidopterist (Source : Adrian Hoskins)[/caption]
It was during a fleeting passage in England, between two distant trips, that entomologist Adrian Hoskins had fun answering the questions of Passion-Entomology. Indeed, at the time when we publish, he must have flown again to Central America (Panama) then to Peru where he organizes trips specifically dedicated to the photographic shooting of butterflies (all the details are presented in his site www.learnaboutbutterflies.com) After meetings marked by the coléos, our blog is happy to orient itself towards the
lépidos and present an original professional, trendy tropical trips but above all entomofauna protection, involved in operations that have effectively protected a fauna particularly threatened in Great Britain (Adrian evokes the protection of lepidoptera in the county of Hampshire : you will find all the details on the site www.purple-emperor.co.uk/
What are your main interests in the study of butterflies

?
I have been passionate about butterflies since my childhood. Their beauty, but also the complexity of their life cycle and the amazing behaviour of some adults have always fascinated me. I naturally started to take an interest in British species and then, for a few years, broadened my interest to European species in general. Now I have expanded my investigations even further and am dealing with tropical butterflies, especially Satyridae and Riodinidae. I am especially attracted by their observation in nature, on the spot, which of course allows me to learn a lot about their interactions with their environment.
Could you tell us about one or two memorable encounters with some butterflies and share with us the emotions that are then yours

?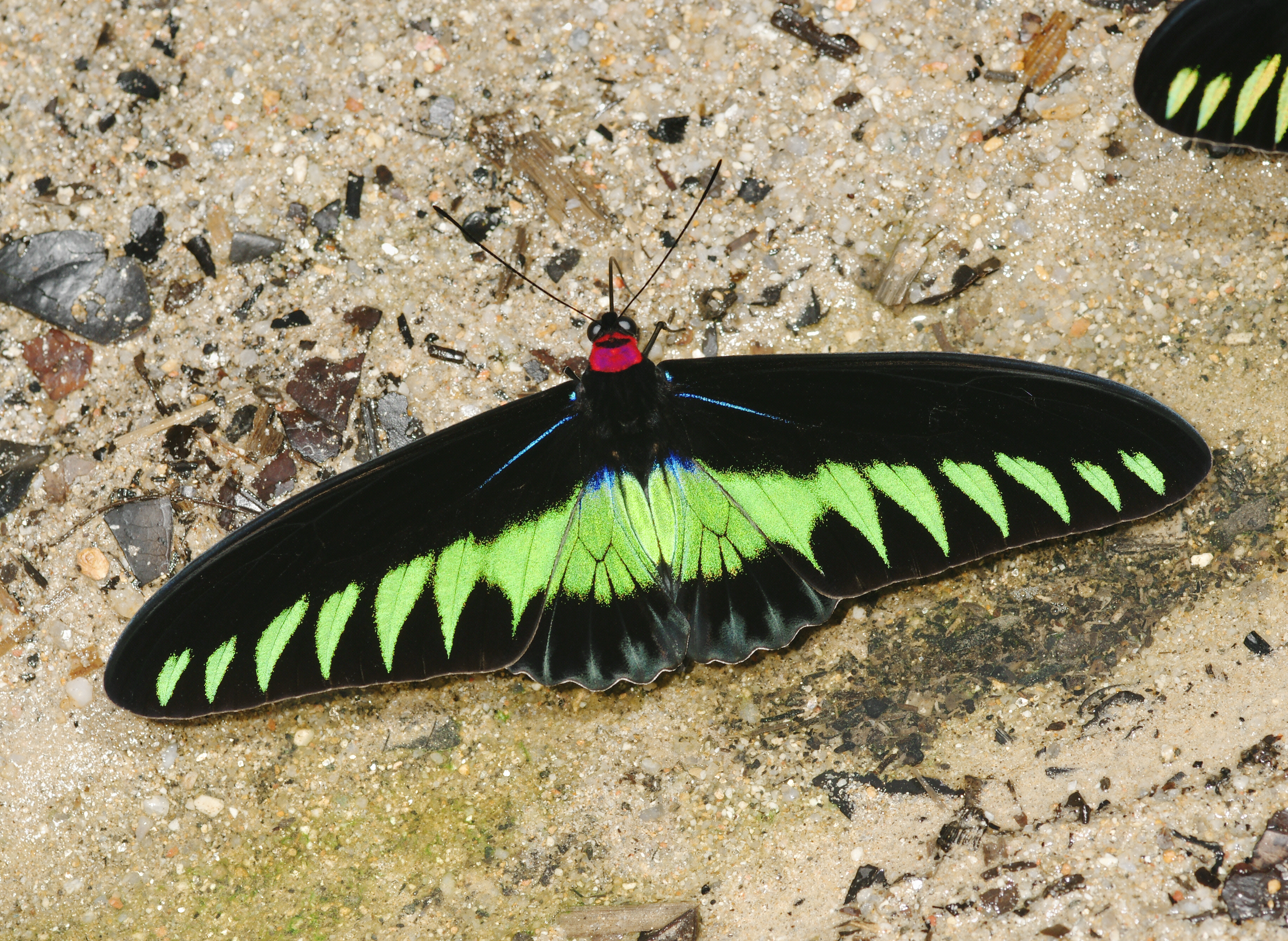 Ah ! You can read my chapter on rainforest on my blog : you will find in detail all the emotions I feel when I am immersed in this universe. The description of my meeting with the famous Rajah Brooke (Trogonoptera brookiana), an incredible Papilionidae from Malaysia and Indonesia, is detailed in my book… and is still a surprisingly vivid memory.
You have been directly involved in butterfly protection in England. What were more particularly your activities in this field?
I was one of the founding members of the Hampshire regional delegation of the association Butterfly Conservation. I believe that one of our most interesting contributions to the work of protecting English butterflies was the purchase of three lands in this county on the coast of England, in order to maintain viable populations of endangered species. It is obviously far more important to know how to protect biotopes and their global biodiversity than to target isolated species without a real strategy by declaring them "protected".
How everyone can help protect butterflies

?
Western societies are haunted by three scourges that threaten butterflies.
First, the will to want everything to be clean and maintained which means that our gardens and parks no longer house flowers and, more generally, local plants.
caption id="attachment_3505″ align="alignleft" width="261″]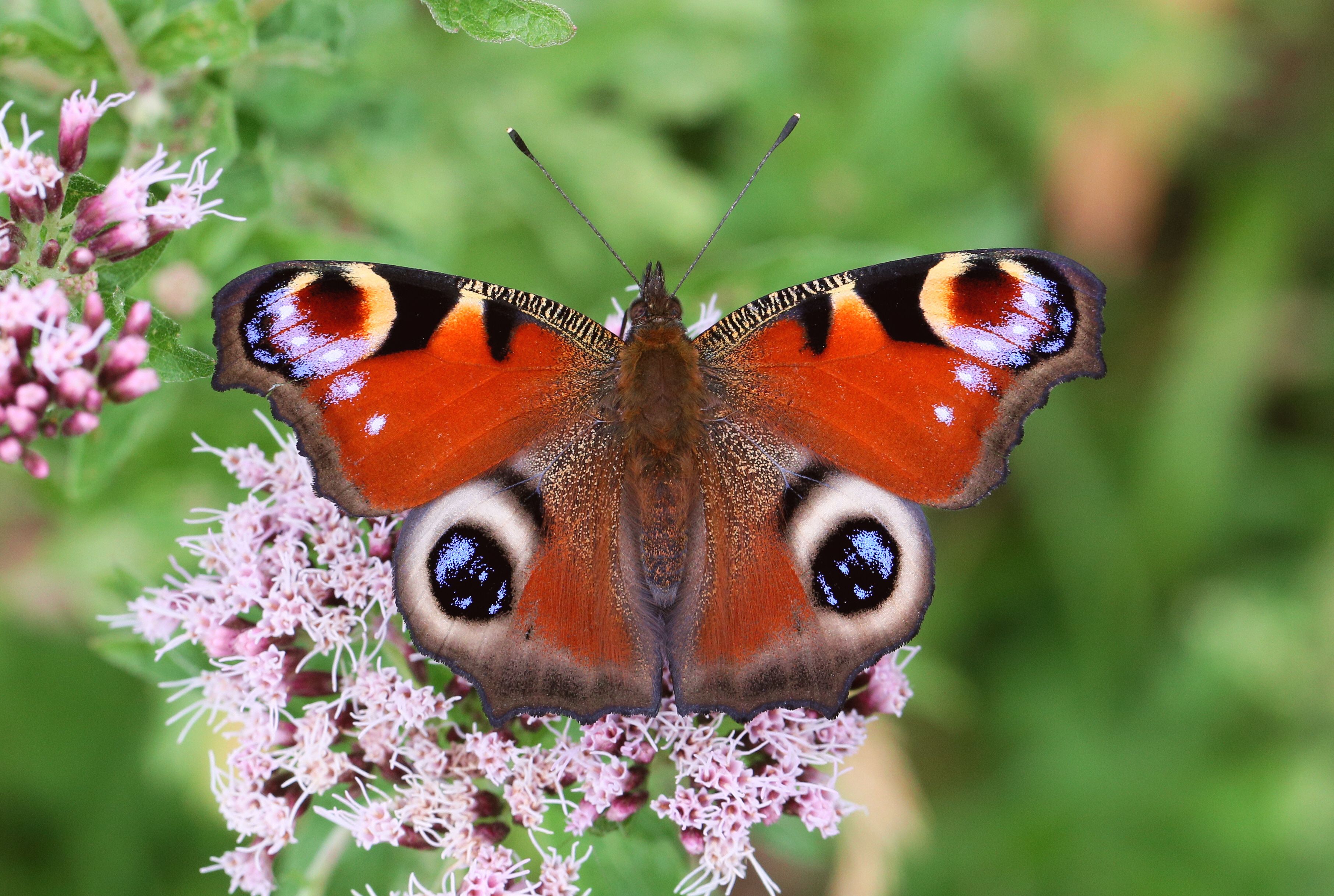 Day peacock (Inachis io) : the "Peacock", an emblematic vanesse in the United Kingdom (Source : A. Hoskins)[/caption]
Second threat: we are obsessed with the need to consume, but the solid metal:daring to produce our cars like our mobile phones or our electronic equipment is extracted from the ground by destroying rain forests.
Finally, a current fashion, that of biofuel production, and the needs of the food and cosmetics industries has led to the almost total destruction of the sumptuous primary forest that covered almost the entire peninsula of Malaysia and Indonesia to the benefit of the installation of oil palm trees that extend as far as the eye can see. In the Amazon, vast tracts of forest have been replaced by monstrous soybean explorations. The only way to protect butterflies, like other animals, is to change our consumerist approach to life. We need to rethink a whole system of being-to-life: replacing our cars less often, investing less in electronics and goods as luxurious as they are useless. We plunder a wonderful planet, once covered with life, for the benefit of a sanitized and artificial world made of plastic, metal and concrete.
Interviews
In the same section, you can discover the interviews of